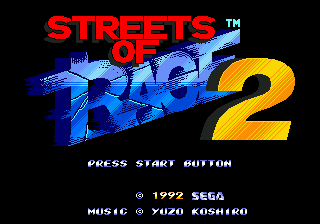 Streets of Rage 2 simply put, has the best soundtrack to any video game I have ever played. Yuzo Koshiro simply brings every element forward through the fast paced levels.
'Go Straight' is one of the sginiture pieces of this game, from the very first stage. Its almost iconic in a way! You play this song to anybody who gamed in the early 90s and they'll be able to tell you where its from!
One of my favourite pieces is from the beginning intro tho!
See, isn't it beautiful?
Stage 7 (Second to last stage) has some incredible music, while you're travelling through a factory, enemies coming at you left right and center, and going up an elevator, full of bigger enemies, to fight ROBOTS on the roof before you enter the final stage!
Where the music changed completely, while you're fighting the bosses you've already fought against, before you hit Shiva and then, finally MR X.
Mr.X Battle music is simply, beautiful. An urgent fast paced fight to complete the game!
I would recommend anyone to listen to the masterpiece that is SoR2.
What is your favorite game soundtrack?
Vix xo