Atlas and P-body are literally my most favorite pairing ever. They are both so cute and together, are fantastic.
Even though they don't speak, the charisma and chemistry between them is electric. The things that do it is their little animations, eg hug and dance together. Also when you go to high five and you miss, you look super super sad.
Playing Portal 2 on your own, is literally one of the most beautiful and rage inducing games ever, but when you have a friend playing with you, it really does test your friendship lol!
Atlas is the tall one, and P-Body is the cute round one, and together they are my favorite game couple, especially when GLaDOS is sprouting out comments like this "These next tests require co-operation. Consequently, they have never been solved by a human. That's where you come in. You don't know pride, you don't know fear, you don't know anything. You'll be perfect."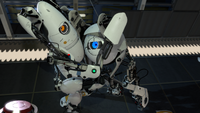 Who is your favorite game couple?
Vix xo